News Update
Coronavirus Update:

BroadWater is closely monitoring the Coronavirus outbreak and will update meeting attendees as new developments emerge. Our top priority is, of course, the health and safety of all participants in our meetings.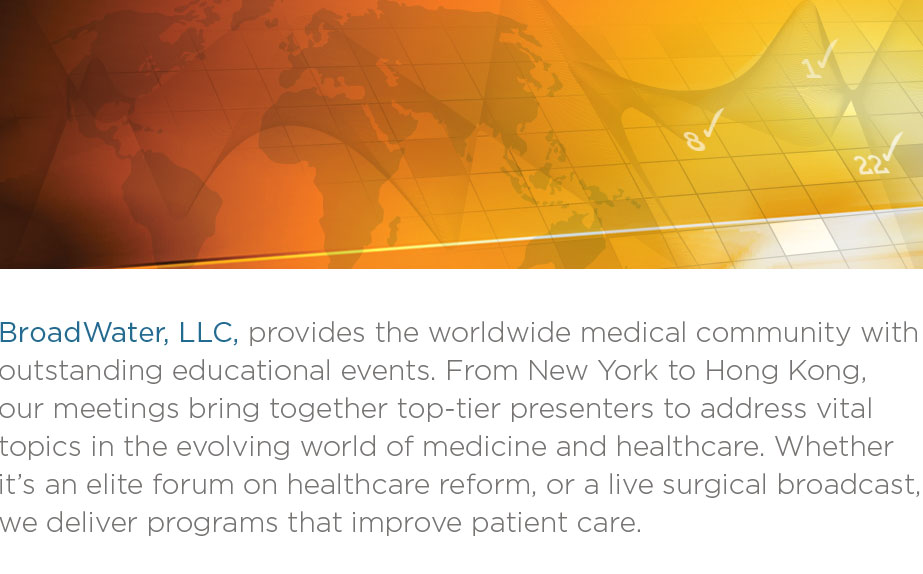 Events Calendar
Events List Navigation
September 2021
CHAIRS: CHRISTINE HO, MD AND DEREK KELLY, MD
This comprehensive cadaveric lab course is designed for pediatric orthopedic surgery senior residents, fellows, and early career stage surgeons. It features 10 hours of key surgical procedural training and insightful lectures on indications and rationale for specific techniques. The topics include upper extremities, spine, hip and lower extremities, trauma, deformity, and sports. Registration now open.
October 2021
SMISS ANNUAL FORUM DIRECTORS: Robert K. Eastlack, MD, FAAOS; Brian Kwon, MD; Bill Taylor, MD; and Luis Tumialán, MD
We are excited to gather in person in Las Vegas for the SMISS Annual Forum '21. Attendees consistently rave about our practical program of MISS insights, our MISS & endoscopic cadaveric labs, and our debates and panels of experts in MISS. Don't miss your chance to be on the podium or to present your research as an E-Poster. Abstract submission & hotel reservations are open now, and registration will open soon; make your plans today!
November 2021
Program Chair, Dr. John M. Flynn, invites you to join us for The 15th Annual Congress on Early Onset Scoliosis and the Growing Spine (ICEOS), the world's leading conference addressing complex scoliosis in the growing child. Known for its highly interactive and collegial atmosphere, the meeting will attract approximately 150 surgeons and allied health professionals from around the world.
+ Export Events
Coronavirus Update:

BroadWater is closely monitoring the Coronavirus outbreak and will update meeting attendees as new developments emerge. Our top priority is, of course, the health and safety of all participants in our meetings.


News Update