Introducing the Summer Spine Symposium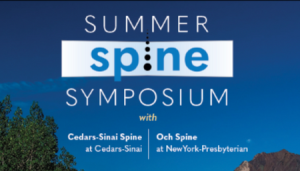 BroadWater is pleased to announce the launch of a new spine meeting in partnership with Cedars-Spine at Cedars-Sinai and the Och Spine Hospital at NewYork-Presbyterian.  The Summer Spine Symposium will be held July 13-16, 2023 in Park City, Utah.
The course will be a joint reunion for fellows, former fellows, and colleagues of the two programs. It will feature a refreshingly different case-based program based on audience interaction, as well as plenty of time to enjoy summer activities in Park City.
To view the full program and for more details, click here.