News Update
Coronavirus Update:

BroadWater is closely monitoring the Coronavirus outbreak and will update meeting attendees as new developments emerge. Our top priority is, of course, the health and safety of all participants in our meetings.

Events Calendar
September 2020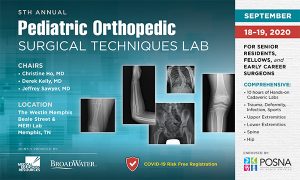 CHAIRS: CHRISTINE HO, MD; DEREK KELLY, MD; AND JEFFREY SAWYER, MD
This comprehensive cadaveric lab course is designed for pediatric orthopedic surgery senior residents, fellows, and early career stage surgeons. It features 10 hours of key surgical procedural training and insightful lectures on indications and rationale for specific techniques. The topics include upper extremities, spine, hip and lower extremities, trauma, deformity, and sports.
+ Export Events
Coronavirus Update:

BroadWater is closely monitoring the Coronavirus outbreak and will update meeting attendees as new developments emerge. Our top priority is, of course, the health and safety of all participants in our meetings.


News Update